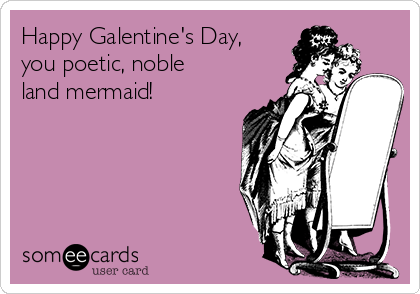 We just celebrated Galentine's Day, Valentine's Day and are mid-month in honoring Black History (and the women essential to that story). In a month, we'll celebrate Women's History, including the increasingly popular International Women's Day on March 8.
I appreciate all the heralding of these moments. And, in a world of social media always looking for a reason for content and conversation, these are excellent guidelines that enable us to tell stories that bear repeating.
But when given the chance to be representative of women, sometimes the opportunities are quick and you have to be ready to engage, square your shoulders and be present.
Recently, while field managing (our term for stage managing) at my improv home, I walked past a group of teen girls sitting and waiting to enter for the show. Their school field trip was to come to our comedy show and they were staring at the wall of our performers' headshots and one girl says, clearly, crisply and full of intention "I'm looking for the females. Where are all the females?" My first inclination was to nod to myself and agree privately with her. My next inclination was to think "I'm glad she's thinking like that now. Can't wait to see how she makes change."
Then I realized I was there. I was available. I was working. I'm female.
I stopped in my tracks (my shoes even squeaked, no kidding) and stuck my hand out to her, "I'm Julie, I'm a female and I perform here. What's your name?" She responded, shook my hand, and let me introduce myself to her friends sitting with her. I explained I'd be running the screens and lights for the show and was organizing the performers that night and that I performed there too. And I told her I liked her question. We females are here. Representing. She smiled. She nodded in approval to herself and to me.
It took me two seconds. I didn't have to respond. I only overheard her, she wasn't actually asking me. But I took time for her. I explained my role there. I made myself visible, available to her. It was fun.
This Galentine's Day, we also staffed the performance stage with only women. I am proud to have been one of a group that didn't even used to exist. Many of us know this, especially theater-writer-performer types. But often, popular culture is people's first blush with history. For many, maybe it was Shakespeare in Love, the award-winning film, that taught them women didn't get to take the stage for Shakespeare's work; men played our roles. Though that has changed (and not because of Gwyneth Paltrow), creative fields draw many women, but often, the coveted, senior leader roles are still men. Creative directors and creative officers in advertising, lead producers, directors, writers in film and stage and of course, publishing, too. So, to be on a stage filled with women in the coveted performer role — in an industry where women's humor is often underrated — was pretty important. People at my improv home even remarked that it wasn't until a couple of years ago that we had enough women to staff a show with all female cast members. It's important to make that part of Galentine's Day every year: a reminder that this is new, it wasn't always this way, that we're part of the very progress we're making.
Women in those coveted roles, whatever they are from performer to CEO, need to inhabit them fully and recognize that visibility is essential to creating more spaces for women. More opportunities. More realization that we're funny, talented, creative leaders who can get the job done. So be visible. Talk to people about your role. Welcome other women into your space. Make room for them all.
Feminist, activist, outdoor advocate, animal lover, chocolate shake lover, reader, watcher, talker, actor, speaker, worker, writer, urban adventurer, hustler, involved, passionate, excited, ready.